Back to top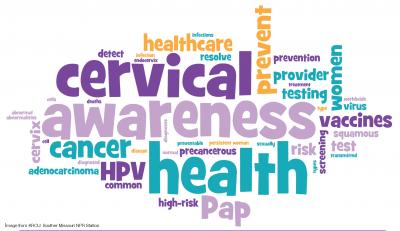 MediCopy partners with a number of facilities to offer ROI/Form Completion services. With January being National Cervical Cancer Awareness month, we wanted to give a shout out to our OB/GYN facilities! To show our appreciation we gathered three facts from the American Cancer Society to help spread awareness about women's health.
1) The human papillomavirus (HPV) causes cervical cancer.
Over 10% of strains of HPV are thought to be linked to a high risk of developing cervical cancer. "Infection with HPV is common. In most cases, the body can clear the infection by itself. But sometimes the infection doesn't go away and becomes chronic. Chronic infection with HPV, especially when it's caused by certain high-risk types, can cause certain cancers over time, including cervical cancer." (American Cancer Society)
2) Cervical cancer can often be prevented.
Cervical cancer starts when cells undergo pre-cancerous changes. These changes can be detected through Pap tests and HPV tests. The Pap test can detect pre-cancerous cells which can be treated before they turn into cancer. The HPV test can detect the presence of the virus that puts women at a higher risk for cervical cancer. Remember, cervical cancer often does not show symptoms right away, so screening is crucial.
3) The frequency guidelines for Pap tests have changed.
The American Cancer Society recommends that all women at average risk should begin screening at age 21. Women between the ages of 21-29 should get a Pap test every three years. Women 30-65 should get a Pap test and HPV screening every 5 years. Women over 65 who have had clear screens for the past 10 years and have had no pre-cancerous findings for the past 20 years can stop screening.
At MediCopy we value women's health. In fact, our office is 73% women! We hope you found these facts interesting and informative! Again, thank you to all of our OB/GYN clients for the care and education they provide!