Back to top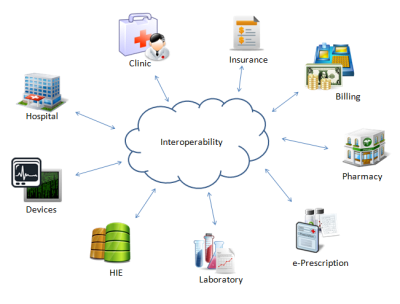 Interoperability was one of the hot topics in Healthcare in 2013 and is expected to only gain more momentum into 2014. As EHR's have become more prevalent, the need and desire to be able to share health information across multiple platforms has also significantly increased. Many companies and organizations have been searching for the solution to this important issue, making it a focus for the future of healthcare.
So what is Interoperability?
Interoperability describes the extent to which systems and devices can exchange data, and interpret that shared data. For two systems to be interoperable, they must be able to exchange data and subsequently present that data such that it can be understood by a user.
In regards to interoperability within healthcare, HIMSS has provided the following detailed definition: 
"In healthcare, interoperability is the ability of different information technology systems and software applications to communicate, exchange data, and use the information that has been exchanged. Data exchange schema and standards should permit data to be shared across clinicians, lab, hospital, pharmacy, and patient regardless of the application or application vendor.
Interoperability means the ability of health information systems to work together within and across organizational boundaries in order to advance the effective delivery of healthcare for individuals and communities."
What does Interoperability look like in Healthcare?
EHR interoperability has recently been one of the main focuses within Health IT. It enables better workflows and reduced ambiguity, allowing data transfer among EHR systems and health care stakeholders. Interoperability has also played a large role in allowing providers to meet meaningful use requirements. In order to share electronic health information in the capacity that is required to meet meaningful use, the current processes must be improved.
As the push for meaningful use Stage 3 has emerged, the need for interoperability has also increased in order to reach these goals. Joyce Sensmeier, IHE USA president and HIMAA vice president of informatics recently stated the following:
"We really need all groups working in the same direction - HIE, HL7 and Health Story Project all working toward similar goals and leveraging for the same purpose. The leadership of the ONC and S&I Framework became more involved and brought new proposals to consider for help with Stage 3. It's for the good of everybody."
Interoperability is no longer a foreign idea that only the most technologically advanced organizations are striving towards. As technology in healthcare continues to develop and increase, the need for interoperability between these technologies will also continue to grow. In order to operate successfully and provide the best patient care possible, this need must be a focus for the healthcare industry as a whole. 
Where is the future of Interoperability heading?
What will Health IT look like in 2014? One way to predict the future is to take a look at what Healthcare organizations and lawmakers are planning for the future.
One organization that has made great strides in this area is CommonWell Health Alliance. CommonWell's vision is to be an independent not-for-profit trade associate organization open to all health information technology vendors devoted to the simple vision that a patient's data should be available to patients and providers regardless of where care occurs. Additionally, provider access to this data must be built-in to EHR technologies at a reasonable cost for use by a broad range of healthcare providers the patients serve. CommenWell's members include these big names: Allscripts,athenahealth, Cerner, Greenway, McKesson, sunquest, and CPSI. As this push for collaboration and communication continues, we should only see more organizations like CommonWell develop and contribute to the initiative.
Lawmakers have also begun to make the push for interoperability. Texas Senator John Cornyn recently proposed an amendment, directing HHS to adopt a common interoperability standard by 2017, as part of the rules for Meaningful Use Stage 3. Members of the House Energy and Commerce Committee have proposed similar provisions and also issued a report outlining their visions for health information technology, pointing out the connections between interoperability and cost improvements.
"While technology has begun to change the way doctors provide care and patients engage in their health, we must recognize that these technologies will be unable to truly transform our health system unless they can easily locate and exchange health information," the members wrote. "For this effort to be successful, however, more must be done to bolster interoperability. The Administration, acting through the Office of the National Coordinator for Health IT, must provide appropriate guidance to providers and to industry on its vision for interoperability and work to engage all stakeholders in adoption of those system."
As the push for adoption of electronic medical records continues, so will the need to adopt new platforms in order to share the information between providers, patients, insurance companies, government agencies, etc. The solution is interoperability. The healthcare industry can no longer refuse to accept and embrace technology as a vital part of patient care. It is time for us to catch up to other industries, and 2014 should be the year that we begin to see a major change in the focus and research of the healthcare industry as a whole. 
- Christiana Thomson, Director of Business Development