This has been an extremely exciting week as some members of our MediCopy team visited San Francisco for BoxWorks 2014! From Sept 2nd through the 4th, innovators from around the nation joined together to learn more at BOX's industry-leading cloud conference. While attending, MediCopy was also given the coveted opportunity to speak about how we first chose to utilize BOX within our company and how we are integrating BOX features into our own upcoming healthcare platform, [iknowrecords].
Along with Heidi Williams, BOX Senior Director of Platform Engineering and Peter Rexer, BOX Group Platform Product Manager, MediCopy CEO Elliott Holt and Director of Business Development Christiana Thomson introduced [iknowrecords] to the audience and gave an in-depth look into using BOX's Content API to build our own application.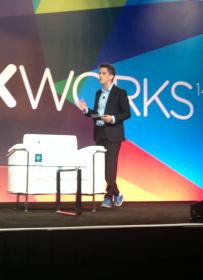 BoxWorks has been an amazing experience for MediCopy and we appreciate all that BOX and VOLO have done for us. Version 1.0 of [iknowrecords] is expected to launch early 2015 and we cannot wait to show you what we have been working so hard on. Make sure to sign up for news and updates on the [iknowrecords] application RIGHT HERE!