Back to top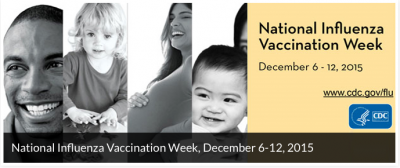 National Influenza Vaccination Week, or NIVW, runs December 6th - 12th to raise awareness about the "flu" vaccine, available to anyone over the age of 6 months. According to the Centers for Disease Control and Prevention, flu season typically runs from as early as October to as late as May of the next year, with peak outbreak in the United States from December to February. Although it is basically impossible to accurately predict how bad a flu season will be, it is recommended to be on alert during the normal peak flu outbreak months.
The map below is updated weekly on CDC.gov to show the current flu outbreak status for each US state. This map shows the latest recorded week, ending on November 28th, 2015. If you would like to download the map or view any maps from previous weeks, you can click here.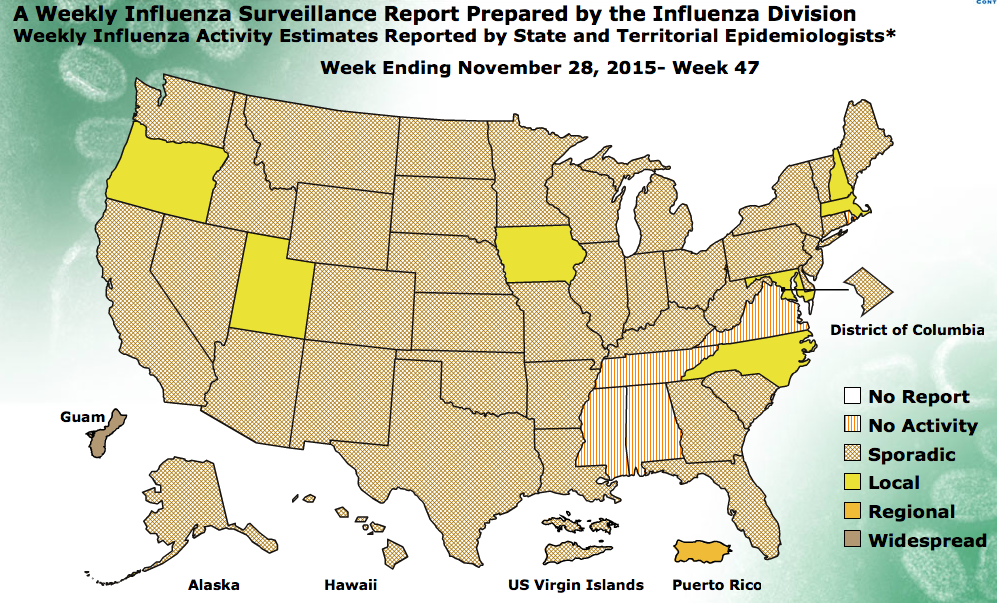 source: Centers For Disease Control and Prevention, cdc.gov
How To Get Involved (Besides Getting The Vaccine)
During NIVW, the CDC hosts many activities to promote the awareness of the flu vaccine. Some of this year's activities include: a Twitter chat, a #VaxWithMe selfie challenge, a place to pledge your support and MORE! To read the CDC's full list of activities and resources this week and beyond, click here. Also, check for NIVW's official hashtag on Twitter, Facebook and beyond: #NIVW2015.
What To Do If You Get The Flu...
According to the CDC, the most important thing to remember is that although the flu vaccine is recommended as early as October, it is never too late to get it after flu season has begun. However, if you do skip out on the vaccine and happen to get the flu, what should you do?
Of course, the first step when developing symptoms is to see a doctor to confirm you do, in fact, have the flu. Once confirmed and home with antiviral treatment meds, adequate rest and quarantine are very important. The CDC states that you should remain in quarantine until at least 24 hours after your fever has broken. To learn more, about prevention and treatment, click here.