Saving healthcare providers time, money & the stress of managing medical record requests.
We strive to make our clients' ROI experience as enjoyable as possible by providing simple and secure solutions. We don't believe you should be bogged down by endless paperwork, hounding requestors or relentless status calls. Our aim is to create a straightforward and efficient system for our clients and requestors, securely completing each request within HIPAA and HITECH guidelines.
We Specialize In:
Secure Delivery of Protected Health Information
Advanced Audit Support and Submission
Disability/FMLA Claim Form Completion
Personalized HIM Consulting
All of MediCopy's clients are met with a unique customer service experience as they are able to connect directly with a representative whenever needed. There are no call centers or webs of automated directions to sort through. With MediCopy, you'll only talk to live people able to provide real answers. No unnecessary transfers or checking with a supervisor, all MediCopy teammates are empowered to make a change and keep our people happy.
How are we able to do this? By focusing on being the BEST, not the biggest.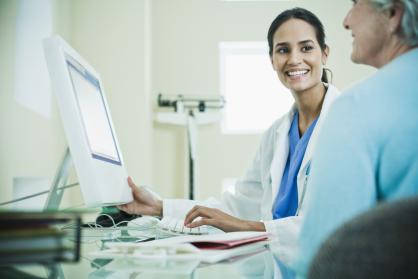 Release of Information
MediCopy takes a new approach to traditional ROI services by offering innovative support to patients, requesting parties and HIM departments alike. We guarantee all clients quicker turnaround times, exceptional security standards and absolute transparency. Learn More.
Disability/FMLA Claims Form Completion
MediCopy's experienced clinical staff will complete all forms submitted to your office. MediCopy guarantees your patients will receive their completed disability/FMLA and insurance claim forms without delay, increasing patient satisfaction and engagement. Physicians will spend less time on paperwork, allowing them to devote more attention to your patients and their needs. Learn More.
Government & Insurance Audit Support
Along with traditional ROI, MediCopy will reproduce all PHI requested for RAC and health insurance carrier audits for your facility. Our team of ROI Specialists are experienced in the submission requirements outlined by each auditor and submit all requests in a timely manner to avoid delay in reimbursement and aid in full compliance. We also utilize esMD software for the electronic submission of all RAC audits, providing a quick and easy method to track the submission and receipt of audits. Learn More.
---